Click on Your Land Rover to Buy an Engine

Land Rover Water Pump Replacement

In any Land Rover, a water pump is very important in order for the car engine to operate at a proper working temperature. Land Rover engines can get extremely hot and quickly suffer serious damage especially a big engine like the Land Rover.
Land Rover Water Pumps job is to pump water to squirt water from the radiator to the engine in order to regulate its temperature. Centrifugal force then forces water into the engine block on into the cylinder heads before draining back into the radiator ready to be recycled through the system.
Land Rover Water Pump Problems
If coolant starts leaking or you notice your engine overheating then replace it with a high quality Land Rover water pump immediately from Armstrong Miller, as engine damage may be irreparable.
To see what Land Rover water pumps Armstrong Miller stocks, just enter your vehicle details and this will then display what stock is available today or alternatively call one of our friendly expert advisors for further details or assistance.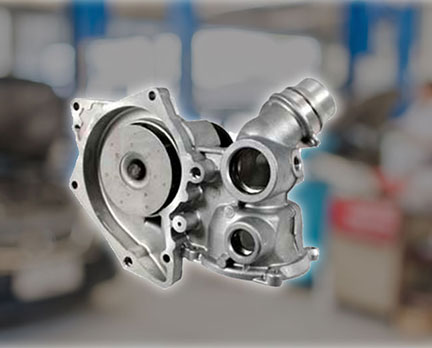 Armstrong Miller Is Here to Help You
If you are facing problems with your Land Rover water pump system and you are looking for a trustworthy garage, then you are at the right place. Armstrong Miller is an independent specialist in everything Land Rover and knows how to fix every issue with your Land Rover efficiently and smoothly.
Armstrong Miller has swift and safe delivery mechanism in place to make sure you get your Land Rover water pumps anywhere in the UK on time and safely. Get in touch for instant price quotes.
Function of the Water Pump
The water pump is the heart of the cooling system. Its sole purpose is to circulate coolant between the engine and radiator so that the engine doesn't overheat. The water pump drives off the crankshaft pulley or the crankshaft itself.
How the Water Pump works?
The function of the water pump is to keep the engine from overheating. Inside the pump is a metal or plastic impeller with blades that push the water through the pump.
Used Land Rover Engine Parts for Sale

Our WorkShop Gallery